We helpen je in het delen van jouw verhaal met jouw vrienden, familie, kennissen en collega's. Schrijf in de app Stamps in één keer van je af hoe het met je is en houd zo iedereen op de hoogte. Want je hoeft er niet alleen doorheen. 
Start a journey in 3 minutes
Easy to make an account, and share your stories and photos
Your updates will give your network a reason to contact you 
Experience the journal-effect: read back how you felt a while ago
Good usage of time and energy
With one update, everybody is up to date
We'll help with advice on how to bring difficult updates
The simple question: 'How are you?' is always meant well. However, during a medical journey it can be burdensome to tell the same story again and again. Or to copy and paste it for different WhatsApp conversations. It can cost a lot of time and energy. While the energy should go to improving your health. With the app Stamps you can write down how you are doing whenever you like and whenever it suits you. You can invite your personal network of friends, family, colleagues and so on, to follow your updates in Stamps. Easy as that.
By sharing your experiences in Stamps, you create an overview about your journey, including all highs and lows, for yourself. You can easily read how you experienced earlier treatments, and the aftermath of them. Pictures as well as reactions on your updates by friends, bring back valuable memories. This also helps in making it feel like the entire journey was a big blur. 
Accessible for your dear ones
Your loved ones will appreciate it if are they regularly informed about your well-being in Stamps. Without having to ask. Because it can feel inappropriate or bothersome to ask or call. 
People in your network can easily read your updates and support you, wherever they are and whenever it suits them. They can support without words, by simply giving a little heart.
When you share your story in Stamps, it will not disappear between other WhatsApp's, holiday pictures, mails or advertisements.  

How lovely is it to receive a postcard with an actual stamp when you are going through a difficult journey. It is a sign of compassion, from somebody who cares about you. For the team of Stamps, this symbolizes the support we want to offer you with our app. You can easily send a postcard, some flowers or a small present to somebody who is keeping you up to date via Stamps.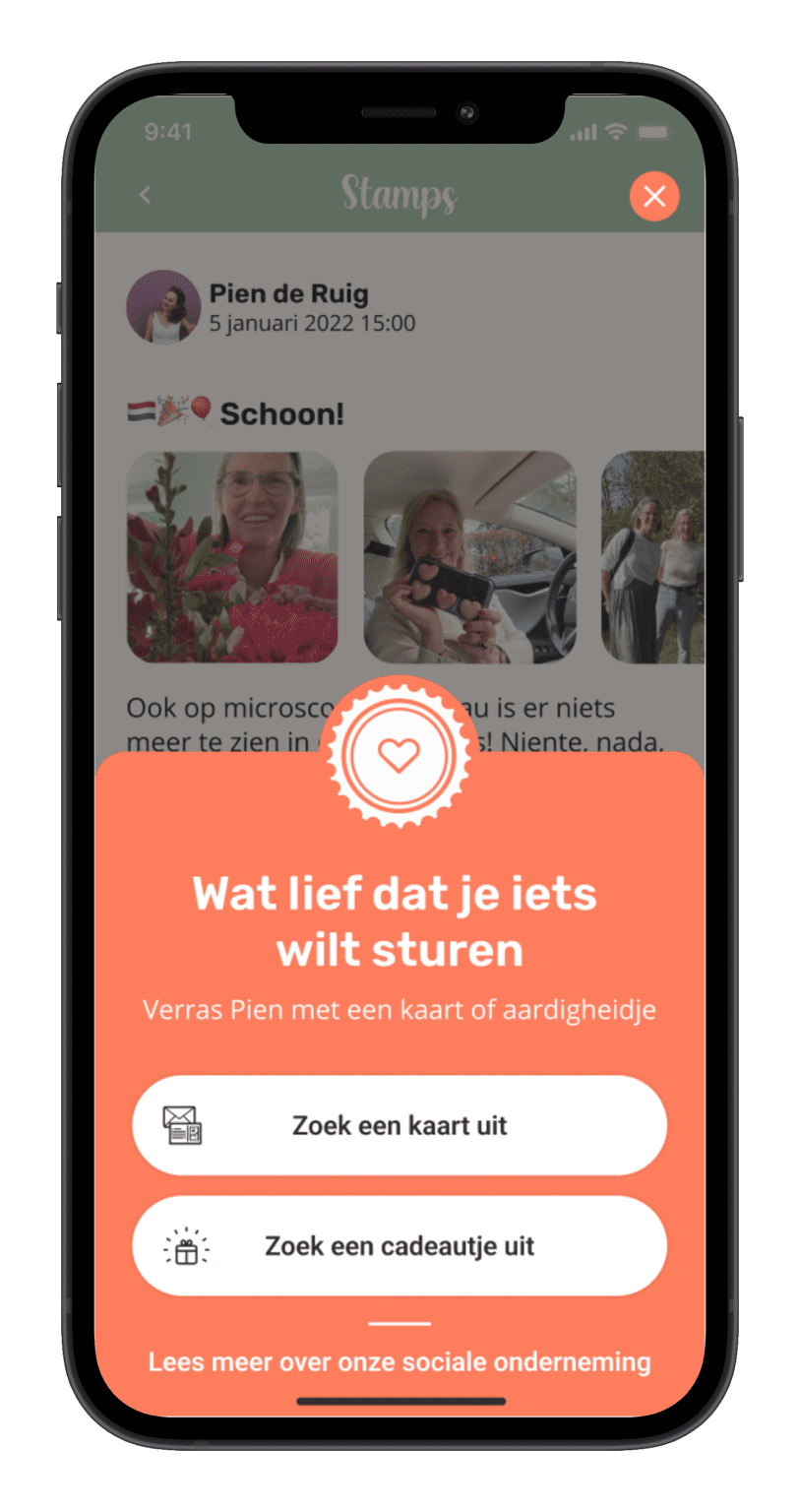 Sometimes you might not have the energy or time to write how you are doing. Above that, not everybody is able to write. For example due to dementia or brain injury. Via settings, you can give someone else the rights to write for you.
You can also give multiple people the rights to write for you. Do you want to share a journey for your grandma, or brother or sister? You can make one account and keep everybody updated together!
And to get a big misunderstanding out of the way, you do not need writing experience to share your story in Stamps. 
Support with a little gift
Postcards designed by Stamps
From a passion for design and animals, we designed our own collection of postcards. Some volunteers added beautiful cards that are very suitable to send when you do not know what to write. These cards can be ordered.. For every card sold, 25 cents are donated to Stamps .
Treat somebody to Storytel
Focussing while reading is not always easy. With Storytel you can enjoy books, by listening to them! With a trial membership, you can first have a look whether that is something for your dear one.
If somebody has the energy to read a good book and relax, you can always surprise somebody with that. It is very relaxing to spend your time and relax very well. By ordering via Libris,you will also help the local entrepreneur!
Gebruikers over de Stamps App
What is the best way to show you are there, and want to know how someone is doing, when something terrible happens to them? You don't want to be overly involved, or ask the same question twice, because you forgot about some medical term.
Because of the daily updates, I could estimate very well when I could give a call or visit for a day. Also, I really liked that my friends could read the updates as well. At times it was difficult to talk about my mothers illness for me.
I stayed up to date and could reply without feeling like being a burden. It was pleasant to be able to remain up to date, wherever and whenever. And being able to respond with either a small reaction or an emoticon, just to show you are thinking about someone shortly.
Stamps is very easy to use. Everybody in a medical or health journey can use it. Stamps is very easy to use. Everybody in a medical or health journey can use it. We know from our market research that people with cancer, brain injury or long-covid can benefit from it. But also, people with obesity going through a challenging weight-loss journey feel supported by the use of Stamps. Are you, or your partner, going trough an emotional journey? Then Stamps is the app for you.
It does not matter what kind of journey you are in. By writing about and sharing your journey, you can enlighten it a little bit. Not just for yourself, also for your loving connections. In case you are temporarily unable to write yourself, you can give somebody else the rights to write for you.